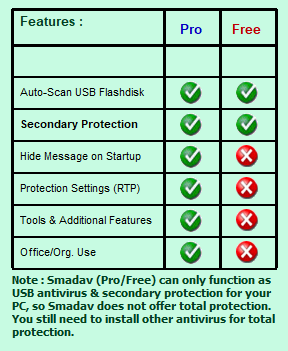 Download will start soon ...
If download failed, click this mirror link to download : [Click Here].
Smadav Pro vs Smadav Free?
Smadav Pro will not show offer to upgrade to pro version on every startup. All difference between Smadav Free and Pro Features : Hide offer message on startup, Tools Section in App, Additional (RTP) Settings in App, Exception List, Changing theme colors, Admin Password, and license to use in business/organization/company.
We recommend you to install another Antivirus for complete protection
We recommend you to activate Windows Defender or Microsoft Security Essential (MSE).
Smadav mainly function as USB Flashdisk Antivirus and secondary protection for your PC, so Smadav doesn't offer complete protection. If you would be often browsing internet or installing new apps, you are highly recommended to use another security products that offer complete protection.